---
Posted by Staci
July, 19th 2012
Do you think Fred got a senior discount movie ticket?
Fred Willard was arrested for lewd conduct last night in Hollywood. Police say they caught him with his pants down in an adult movie theater. Undercover vice officers went into the Tiki Theater in Hollywood and found the senior actor star watching last night's feature ... he must have lost his belt cuz his pants had fallen down. And he must have been doing sit ups or something because he was out of breath too. (wink)
Fred is best known for memorable roles in movies like "Best in Show", "For Your Consideration" and "Anchorman" More recently he's played Phil's dad, Frank Dunphey on "Modern Family".
He is currently starring in a new improv TV show "Trust Us With Your Life," on ABC. Fred is "rumored" to be in pre-production for a movie entitled (I'm not kidding) "The Yank." It's a comedy.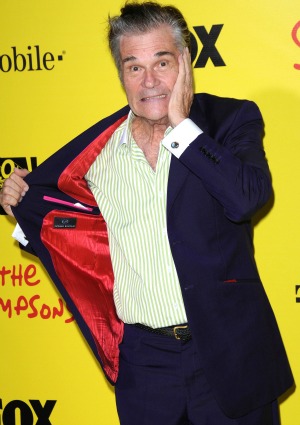 And here's an update....
From the NYTimes.com
By ELIZABETH JENSEN
After the actor and comedian Fred Willard was arrested in Hollywood on a charge of lewd conduct, the fallout was swift. PBS said Thursday that Mr. Willard had lost his job as the wisecracking narrator of its new show "Market Warriors."
Officer Rosario Herrera of the Los Angeles Police Department said Mr. Willard was arrested about 8:50 p.m. Wednesday after he was seen "engaging in a lewd act" by vice officers on routine inspection in the 5400 block of Santa Monica Boulevard, the location of the Tiki Theater. He was later booked and released.
On Monday, PBS introduced the first of 20 episodes of its "Antiques Roadshow" spinoff "Market Warriors," which pits professional antiques pickers in a competition to spot the best bargain.
Jeanne Hopkins, a spokeswoman for WGBH, the Boston public broadcaster that produces the show, said via e-mail, "Given the unfortunate news reported today, effective immediately, Fred Willard no longer will be involved with the 'Market Warriors' series."
The host of "Antiques Roadshow," Mark Walberg, will re-voice the episodes that Mr. Willard has already taped, Ms. Hopkins said.
---